.OpenOPEN BURNING SEASON HAS CLOSED FOR THE YEAR. HATFIELD FIRE INSPECTED AND ISSUED 69 OPEN BURNING PERMITS FOR 2022. WE ARE HAPPY TO REPORT THAT WE HAD NO REPORTS OF OUT OF CONTROL OR AFTER HOURS BURNING ASSOCIATED WITH ANY PERMITS ISSUED.
Mission Statement
"We, the members of the Hatfield Fire Department dedicated our efforts to provide for the safety and welfare of the public through preservation of, life, property, and the environment."
[36

]
EMS Calls in April
[10

]
Fire Calls in April
[46

]
Total Calls in April
Updated: May1, 2022 [click for more]
Everyone needs working smoke alarms. This public service announcement from the Massachusetts Department of Fire Services is geared toward older adults, who are at greater risk in case of fire. If your smoke alarm uses alkaline batteries, change the batteries twice a year, and replace an alarm if it's more than 10 years old.
Apparatus Spotlight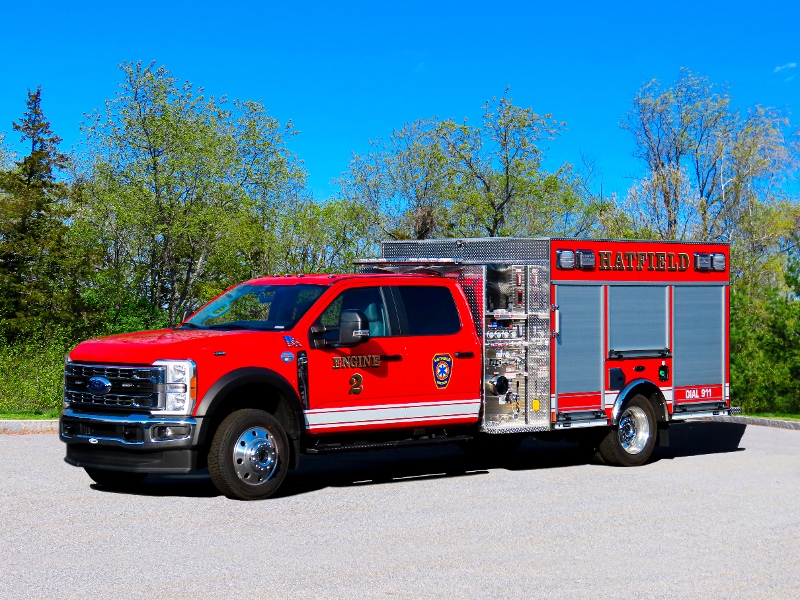 Engine 2
Hatfield E2 is the only apparatus in our fleet stored outside of Central Station. Engine 2 lives on Depot Road, serving residents on the North side of town. Built in 1989, this 33 year old truck looks great for its age and remains a beautiful piece of Hatfield's Fire history. Her 1,250 gallon per minute pump remains in working order and continues to pass yearly inspections!
Hiring Continually - Call Firefighters/EMTs
As a majority call fire department, a large portion of our personnel is made up of citizens from within the commumity. Members come from a wide variety of backgrounds, and everyone contributes to the common goal. With that said, we are always in need of new members and welcome those who are interested.
We are currently accepting applications for the positions of Firefighter, EMT, Paramedic, or both. No previous training or experience required! We provide all necessary fire training, and are willing to send interested people to EMT class at our expense (with conditions).
Those interested should call the Fire Department at (413)-247-9008, complete the application, or just stop by the station during normal work hours. We have training almost every Thursday at 7pm, and its always open to the public.
Click here for an Application
.
Do you have questions about the application process? Email Chief Robert Flaherty (bflaherty@townofhatfield.org).